Invest in Your Painting Equipment
Now you might not like the answer I'm about to give you but invest in a paint sprayer. It will change your life. The reason I bring this up is when you buy rollers, poles, pan liners, drop clothes, disposable brushes, and various other paint accessories this often goes over $100. When I bought my home 3 years ago I bought maybe 5 different sprayers thinking bigger was better. In reality I found a simple sprayer by Wagner the Control Pro 130 for $200 that even surprised me. This sprayer is plug and play and there's no need to thin the paint. I used it for staining my dock, painting the house, refinishing doors and cabinets and spraying water when removing the popcorn ceilings. It's been an excellent investment and versatile in it's uses. However it goes without saying good brushes and roller covers give excellent coverage. I often still roll in tighter areas like closets and when evening out coverage. I also recommend investing in a high-end painter's tape. It will save your time when it comes to sealing out paint drips and keep your edges clean.
On Textured Walls, Know Your Nap
When painting the walls of your home you may have stucco, concrete or brick walls. The more texture your walls have, the thicker the nap you'll want on your roller cover. A thicker nap will be able to reach into cracks and provide full coverage. If your wall surfaces are smoother, such as drywall, you'll want to go with a thinner nap. It's crucial to remember not to use a thicker nap than what's required; otherwise, the paint may bleed or be uneven. As a result, be prepared to ask questions of the paint specialist at your local hardware shop. Coverage on textured walls is not an issue if you use a paint sprayer.
Protect Anything You Don't Want Painted
The most significant and time-consuming aspect of painting is preparing a painting area. You will never be sorry for taking the effort to cover your flooring, furniture, and hardware before starting a painting project. Drop cloths are required, and painters tape makes removing outlet covers and covering switches a breeze. A good painters tape is crucial for ensuring a tight seal on corners and baseboards, as described in the previous stage. When it comes to windows and glazed doors, I've used Associated Paint's " Masking Liquid H2O " to cover the glass. Brush it on the glass, wait for it to dry, then paint over it and peel it off with no overspray.
Perform a Visual Inspection and Preparation of the Walls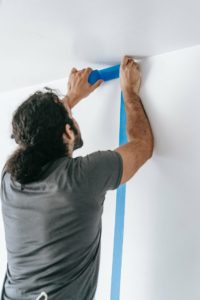 You've taped all the baseboards, removed the outlet covers, and laid the drop cloths to protect your workspace. Now is the moment to inspect the walls for any holes or gaps. If you notice spots of flaking, chipping, or peeling paint, now is the time to sand them off with sandpaper and wipe them down with a moist cloth.
Should you use a Primer?
If you already have a clean, smooth surface, paint-and-primer combos are fine. Sherwin Williams is my go-to paint brand, and I generally only need one coat. If you're painting a brighter color over darker walls or it has been more than eight years since you last painted, a primer is recommended. If you need to cover a very challenging surface, use a bonding primer (such as glass or high-gloss paint). Many painters consistently recommend KILZ as their go-to primer: it's inexpensive and provides excellent coverage for a variety of applications.
Boxing your Paint.
Using an empty five gallon bucket, this is a very simple procedure. Instead of using one gallon at a time, thoroughly mix all of the paint in a larger bucket. This is known as "boxing" your paint, and it ensures that your color remains consistent throughout the process. Make sure the paint salesperson gives you an accurate estimate of how much paint you'll actually need so you can buy it all at once.
Let's begin painting!
Use your roller to apply paint from the ceiling downward after you've cut in your edges at the ceiling and baseboard using a brush. Pros paint directly over their mistakes as they work their way down the wall, but amateurs typically have obvious drips and splatters at the end of a paint job. It's preferable to leave an area alone after it begins to dry. Reapplying the paint might leave traces and color streaks on the surface. If you're using a sprayer work in a side to side fashion and work our areas at a consistent pace, Avoid over painting an area by going too slow. I always recommend practicing with water if it's your first time using a sprayer to develop a rhythm.
Home Inspection Services in Orlando FL
Are you looking for more homeowner tips? Did you know your home inspector is your best resource for home maintenance tips? We're here to help you know the shape of your home. HOMESHAPE Inspections has been helping real estate agents and homeowners with Home Inspection Services in Orlando Fl. We also provide 4 Point Inspections and Wind Mitigations for homes in Volusia, Seminole and Orange County.
Schedule a home inspection today on our website!
https://www.homeshapeinspections.com/wp-content/uploads/sites/80/2022/09/How-to-Paint-Like-a-Pro.jpeg
844
1500
Spectora
https://d2mejsoa8tvo2o.cloudfront.net/wp-content/uploads/sites/80/2022/09/27224920/HOMESHAPE-Inspections-new-logo-e1662777555884.png
Spectora
2022-09-27 02:00:27
2023-10-05 15:56:46
How to Paint Like a Pro